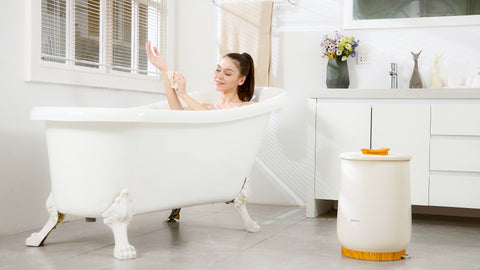 1. Insert the power cord into an electrical outlet.
2. Prepare dry clothes or towels and put them in the heater and  Close the lid.
*NOTE: Placing damp or wet towels inside the product can damage it and pose serious safety risks.
3. Press the ON/OFF button. The LED ring will turn red to indicate that the product is heating. When the temperature of the INTERIOR SURFACE exceeds 122°F/50°C, the HOT SURFACE INDICATOR will light up. When lit, the INTERIOR SURFACE of the Towel & Blanket Warmer is unsafe to touch.
 4. You can heat the towel according to your bath time. The longest heating time is one hour, and the towel rack will automatically stop heating after one hour. 15 minutes is typically sufficient to heat two bath towels.  
*Note: The Towel & Blanket Warmer can reach approximately 266°F/130°C and remain hot for the duration of the heating cycle.
 5. After you take a shower, you canOpen the lid to remove the towelor blanket. And feel the warm hug that the towel warmer brings you.
*Note: To avoid damage to the product, gently raise the lid when removing items.
6. After use, please press the ON/OFF BUTTON and close the lid.